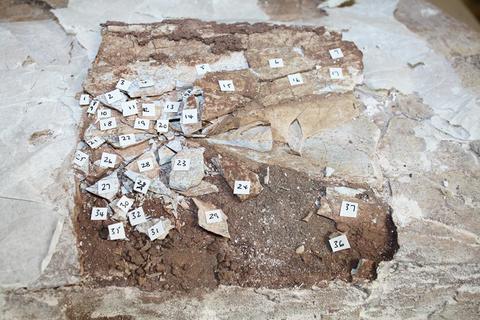 Fragmented bone surface on a sauropod femur. Photo and labelling by Mark Graham.
In the last Niger Sauropod post, we looked at the removal of rock and other material from the bones. Unfortunately for us, fossils are frequently fragile things that have often suffered some damage, whether this be a result of the fossilisation process itself, weathering or even being trodden on by large animals.
Our sauropod skeleton was discovered weathering out of the Sahara Desert, and perhaps not surprisingly, is not in the best possible condition. As we work on the bones, we do what we can to repair them- consolidating fragmentary sections, filling gaps and cracks, and fixing major breaks.
Much of this work is done using an adhesive called Paraloid B72. Although a little hard to handle and manipulate, it forms a very strong bond and, as it is soluble in acetone, is reversible. Thinned down solutions of Paraloid can be dripped into cracks or onto fragmented bone surface to consolidate them, while major breaks can be repaired with thicker solutions. Large bones can be left upright in the lab's sandpit, supported by sandbags and clamps, while the adhesive sets.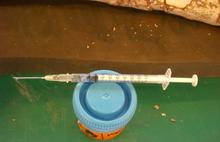 Paraloid can also form the base of a gap-filling material- by mixing it with tiny glass beads, each only a fraction of a millimetre in diameter, a thick paste can be produced and used to fill large cracks and gaps in the specimen.
Putting these bones back together can be an incredibly fiddly and time-consuming job, but there's nothing like the feeling of finding the right place for that little fragment of bone you've been turning around and around like a Tetris block for an hour or more……..
UPDATE: Fossil preparator extraordinairre Mark Graham has somehow managed to fix the nightmarish mess pictured above! Check it out: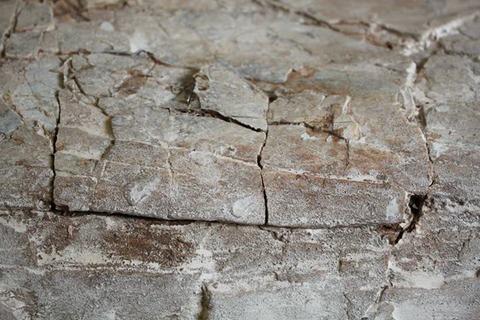 Kieran Miles writes for the Conservation Centre website. He's OK at jigsaws but has never successfully completed a Rubik's cube.