First off, a big thanks to anyone who came along to Science Uncovered- it was a huge success, with over 10,000 visitors attending the event (including a lucky few who had the opportunity to go behind the scenes and visit us here in the Conservation Centre).
Back to the Niger Sauropod now in this series detailing our fossil preparation project. Today's post is about matrix removal. This doesn't refer to another disappointing sequel to the 1999 sci-fi movie The Matrix, but rather to the next stage of preparation- removing the rock from the bones. We call the sediment that the fossil is preserved in the matrix, and a large part of the preparator's time is spent removing this material.
l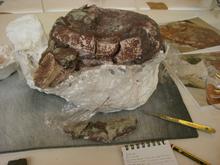 How much of this matrix is removed will vary depending on a variety of factors- in some cases, the surrounding matrix may provide valuable data, or sometimes the bones may be so slender of fragile that leaving them partly set in the rock provides support for them. If the fossil is being prepared for display, then it may be part-prepared in a way that makes it aesthetically pleasing.
In our case the bones we have are mostly loose, and the researchers are interested in the overall morphology of the bones, so we're just removing all the rock adhering to the fossils completely. In some places the dry, sun-baked desert rock can be picked off with a scalpel or modelling knife. In other areas though, the rock is, well, rock-hard, and cemented onto the bones, and more advanced tools are needed. Let's have a quick look at some of the tools of the trade:
Air-scribe. One of the most versatile tools used by fossil preparators. This is an air-powered engraving pen that works much like a miniature pneumatic drill. The pitch and frequency can be changed and they come in a variety of sizes. 
.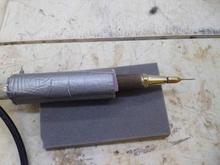 NSK. This electrically powered hand-held tool is a rotary cutter/grinder- different heads can be attached for different jobs. The main ones we're using are a diamond-tipped cutter for slicing into the matrix, and a grinding head for wearing away the rock
.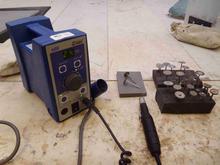 Air abrasive. Once we get very close to the bone, the air-abrasive tool can be ideal for fine detailed work. It's essentially a mini sand-blaster, firing a stream of compressed air and powder.
.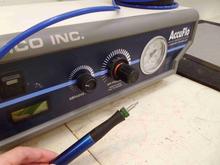 Once all the rock matrix has been removed, it's time to fix the breaks and cracks- but that's a job for a later post.
 
Kieran Miles has been working at the Natural History Museum in some capacity for 7 years. He did not enjoy the Matrix sequels.