Hello, thanks for joining us. To kick things off I'd like to start by introducing an exciting fossil preparation project that has been underway since I first became involved with the Conservation Centre, more than a year and a half ago - the Niger Sauropod Project.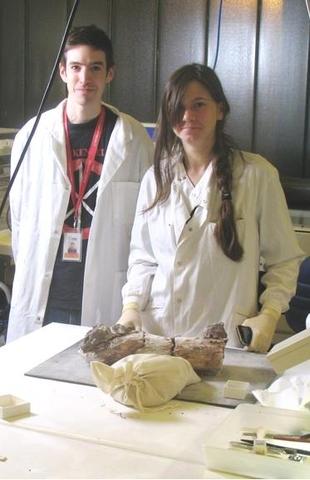 Kieran and Erica with a dinosaur bone. Photo by Mark Graham
First, a bit of background history. In 1988, a joint expedition by the NHM and the University of Kingston discovered a partial fossilised skeleton of a large sauropod dinosaur in Niger, West Africa. Sauropods were mostly very large, herbivorous dinosaurs that walked on all four legs (visitors to the museum will be familiar with one in particular, Diplodocus, who has pride of place in the Central Hall).
The fragile bones were wrapped in burlap strips soaked in plaster to form protective jackets, then brought back to the museum to undergo preparation. However, this would take longer than planned- although a single femur was part-prepared for an exhibition, the project was put on the back burner and the rest of the skeleton has lain largely untouched for almost 25 years.
In 2011 the project was brought back to life, spearheaded by fossil preparator Mark Graham, who took on a team of 4 volunteers to the project – Nick Loughlin, Rose John, Erica Read and Kieran Miles (writing these words). Since then, the line-up has changed a lot, with only myself still on the project. Nick and Rose have moved on, though Erica is still with us, having crossed over to the conservation side of things. Under Mark's tutelage and guidance we've managed to prepare a significant number of the bones - I plan to use future blog posts to detail our progress on this exciting project.
So until then, here are some pictures of the original field dig in 1988, courtesy of the NHM's Picture Library (http://piclib.nhm.ac.uk):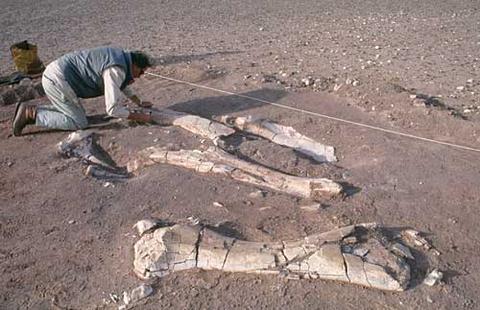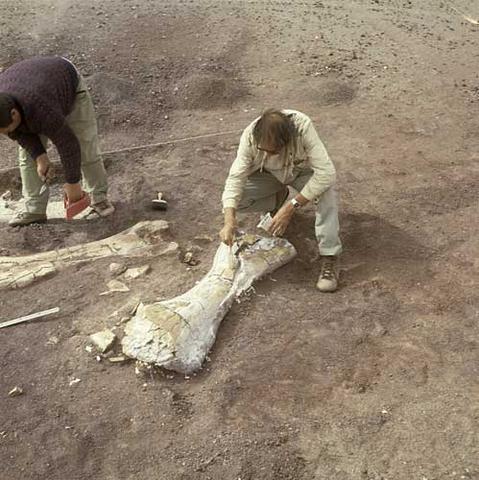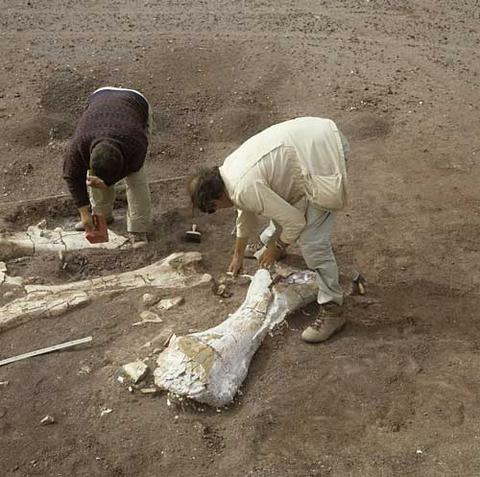 Kieran Miles has a degree in palaeobiology and evolution from the University of Portsmouth. In addition to fossil preparation he works as a Science Educator and behind the scenes tour guide at the museum. He has never written a blog before and still doesn't really know what Twitter is.