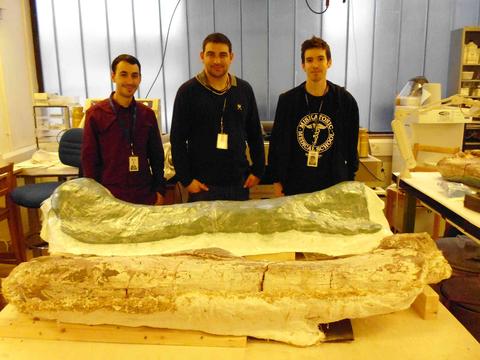 The current volunteer fossil prep team (left to right, Matthew, Craig and Kieran) with sauropod limb bones. Photo by Mark Graham
Today marks the 2 year anniversary of the Niger sauropod project. It was two years ago today that the NHM's fossil preparator Mark Graham got his new volunteer prep team- Rose, Erica, Nick and myself- started on preparing the fossilised bones of an enormous sauropod dinosaur that the museum had collected in the 1980s. I can still remember my excitement at being chosen from among the many applicants!
Two years on and I'm still here, now joined by Matthew and Craig. We're currently working on the gigantic limb bones- pictured above are the two femurs (thigh bones), the longest bones in the animal's body. With about 2 thirds of the work done, we hope to have the project finished by this time next year.
Erica still volunteers with us, but has moved over to the conservation side- an area that I have sadly neglected so far on this blog. I hope to rectify this in the near future by reporting on some of the many and varied conservation projects going on in the lab.
If you're reading this blog for the first time, you can catch up on previous updates to the sauropod project here:
http://conservation.myspecies.info/node/6  (Introduction)
http://conservation.myspecies.info/node/7  (Plaster jackets)
http://conservation.myspecies.info/node/10 (Matrix removal)
http://conservation.myspecies.info/node/13  (Adhesives and repair)
Kieran Miles has thoroughly enjoyed the last 2 years with the fossil prep team, and looks forward to more!